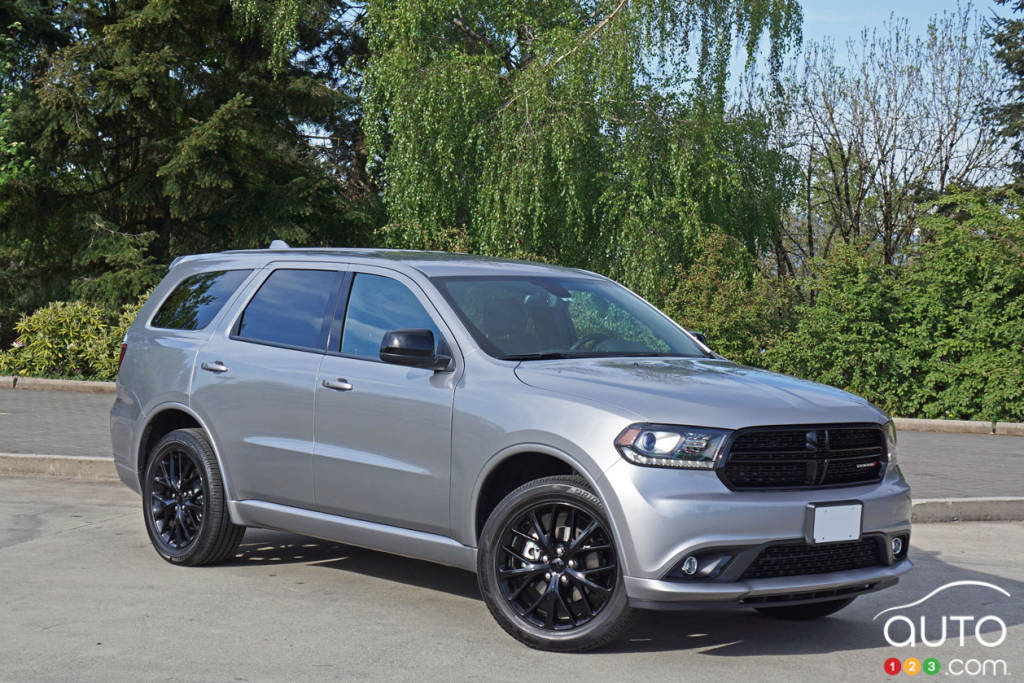 Blacktop package adds intimidating look to well-seasoned SUV
2016 Dodge Durango SXT AWD Blacktop Review
Photo: K.Tuggay
Monday, 04 July 2016
With nearly 20 years under its belt and almost six in its current, third generation, the Dodge Durango remains a rugged-looking contender amid today's often minivan-like crossover SUV crowd. My recent SXT AWD Blacktop tester appeared even more masculine than the model's usual chrome-clad design.
Unique black trim
Its grey Billet Metallic paint and body-coloured detailing along with its blacked-out grille, headlight and fog lamp bezels, mirror caps, wheels and badging made it look as intimidating as a highway patrol ghost car, although the constabulary doesn't normally spend the money required for 20" rims on 265/50 rubber. Still, this Durango's only a couple of blue and red strobes away from striking fear into the hearts of surrounding motorists.
Believe it or not, I'm describing a base 2016 Dodge Durango SXT with $195 in paint and $1,595 for the Blacktop package, which also adds cool LED daytime running lamps and a dual exhaust while subtracting the roof rails. This, combined with a complete lack of chrome as well as a rich leather and pseudo suede cabin, endows the vehicle with a decidedly upscale, urbanite attitude. My tester also included the $1,250 Popular Equipment Group encompassing heated front seats and a heated steering wheel, a back-up camera, and rear parking assist.
No shortage of features 
The standard features menu is equally impressive thanks to auto on/off headlamps, proximity access with push-button ignition, LED interior lighting, illuminated cup holders, an auto-dimming rear-view mirror, power heated side mirrors, a leather-wrapped, multi-function steering wheel, cruise control, a multi-information display, tri-zone automatic HVAC with rear controls, a Uconnect colour infotainment touchscreen, outstanding audio with satellite radio, a comfortable 8-way power driver's seat and 4-way power front passenger's seat (which also folds forward for extra convenience), a 60/40-split second row, a 50/50-split third row, and more.
Meanwhile, the 2016 Dodge Durango's standard safety kit includes trailer sway control, hill start assist, active head restraints, and all the usual active and passive safety equipment.
All of this comes in a cabin that will make you completely forget any previous Durango interior thanks to soft-touch surfaces like the dash top and halfway down the instrument panel, and even the lower extremities of the centre stack. Stylish, satin-silver inlays highlight the dash and door panels, while the thickly padded leatherette armrests boast contrasting grey stitching to match the seats. Likewise, the leather-wrapped steering wheel is padded and nicely stitched for extra grip, while the switchgear on its spokes and elsewhere around the cabin is well damped and has a high-quality feel and tight fit.
Small screen shortcomings 
The premium-level 7" colour TFT gauge cluster behind said steering wheel in the 2016 Dodge Durango SXT AWD Blacktop immediately catches the eye, replete with a myriad of features and bright, clear legibility no matter the light outside. However, this advanced bit of electronic kit makes the entry-level Durango's most glaring weakness all the more apparent ― a centre stack that comes across as more rudimentary than the majority of competitors due to an infotainment touchscreen that measures a mere 5" diagonal.
I've also tested the Durango with its available 8.4" touchscreen and let me tell you it's a wholly different experience that I recommend if your budget allows (because you'll need to move up in trims to get it).
The aforementioned rear-view camera incorporates active guidelines, while the audio system includes Bluetooth streaming and easy phone connectivity. A simple digital compass points the way instead of navigation, however. Unusual is a digital button that will automatically drop the third-row headrests for better rearward visibility.
No shortage in overall capacity 
Most should find the 2016 Dodge Durango quite spacious. It's an SUV bordering on full-size dimensions, although not quite as big as a Chevy Tahoe or Ford Expedition, at least when it comes to width, but second-row passengers get plenty of legroom. That middle bench (bucket seats are available) folds out of the way for easy access to a third row that's nicely finished and amply sized for normal adults.
Alternatively, the rearmost bench can be left folded into the floor for additional stowage room, expanding the reasonable 487L cargo hold (about the size of a large sedan's trunk) to 1,351 litres behind the second row. When both rear rows are folded, the Durango is one of the most accommodating SUVs in its class with a massive 2,393 litres of cargo space.
While this Dodge Durango SXT doesn't quite meet premium-level expectations inside, the hefty thunk its doors make when closing, its overall quietness at speed, and the impressive way it takes to the road will make you wonder why the company doesn't go all the way with luxury refinements. It's a unibody design, in case you weren't aware, so the Durango is no longer riding atop a pickup truck frame like it used to (and some of its aforementioned full-size colleagues still do). That's why its structural rigidity is so sound, overall feel so substantive, and handling so agile ― similar to pricier SUV players from upmarket brands.
Surprising performance 
The 2016 Dodge Durango's fully independent suspension provides a wonderfully compliant ride and confidence-inspiring road holding, while its advanced 8-speed automatic transmission wows with a space-saving, rotating-dial gear selector. Fully engaging paddle shifters help make the most of the 3.6L Pentastar V6's 295 horsepower and 260 lb-ft of torque. These numbers aren't class-leading, but takeoff feels more than strong enough.
Meanwhile, the big brute surprisingly achieves the best fuel economy in its AWD class at 12.8L/100km city and 9.5L/100km highway, this due in part to auto stop/start technology that comes into play when the engine would otherwise be idling. The V6 runs smoothly, too, although it makes a wonderfully gritty growl at full throttle. The autobox is similarly smooth, yet capable of quick, crisp shifts when pushed hard. Furthermore, the available Sport mode is actually quite aggressive, requiring the use of those paddles so as not to rev the engine too high and needlessly waste fuel.
Final verdict 
At the end of my test week, I only had one complaint that also has affected a number of other FCA vehicles equipped with proximity-sensing access ― a regular need to press the door handle-mounted button multiple times to gain entry. I found that shifting my body position sometimes helped, no doubt relative to which pocket held the key, but seeing that I haven't needed to do likewise with the passive entry systems used by other automakers, it may be something FCA should look into.
This small irritant aside, the 2016 Dodge Durango is an impressive SUV that still measures up to more recently updated competitors in most respects. The larger infotainment display and rear-view camera should be standard, though, especially considering the base price of $43,395 plus freight and dealer fees. Dodge preferred to invest its money into one of the best drivetrains in the industry.
While as smooth and refined as anything in its class, you'll be hard-pressed to find a tougher-looking SUV, which seems fitting considering it hails from a brand that also purveys the badass Charger and the even more alluring Challenger, not to mention the now-legendary Viper. Even with its pint-sized infotainment screen, I couldn't help liking it, but if my money were on the line I'd upgrade to get the more advanced system. It's your call, but either way you'll be well served with a Dodge Durango.