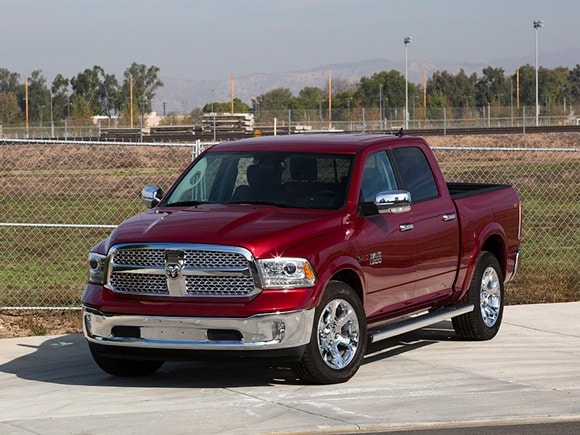 It might seem strange that we don't have just one pickup truck on our Best Family Cars list for 2015; this year, we have two. That shows not only how far trucks have come, but it's also our way of acknowledging that families come in many shapes and sizes, and that not every family needs the same thing from their vehicle.
The Ram 1500 may be the most civilized truck on the market today. When it comes to buying a family car, that can go a long way. Many families are looking for more than just a kid carrier, or something that offers easy installation of a car seat. While the Ram can serve as official munchkin mover, it can also do a lot more. Its versatility makes it easy to carry an ATV or dirt bikes, and the Ram-exclusive RamBox allows you to tote small gear on your next camping trip.
As Comfortable as a Sedan
The Ram has the most comfortable ride of any truck. That it can work hard as well makes this an impressive all-around truck, one that can do just about anything. Thanks to a coil-spring rear suspension and available air suspension, a family can enjoy the comfort of a midsize sedan while on a road trip. Also adding to that cruising America appeal is the modern interior, with optional amenities like heated leather seats and steering wheel, dual-zone climate control, Uconnect with wi-fi hotspot, nav system and SiriusXM with real-time traffic. There's also an available clean diesel V6, for a fuel range that ensures you don't need to stop nearly as often, saving both time and money.
The Ram is a truck that's ideal for the great American road trip, that quintessential event that every family really should do. What better way to see America than in comfort, with all of your adventure gear in tow?